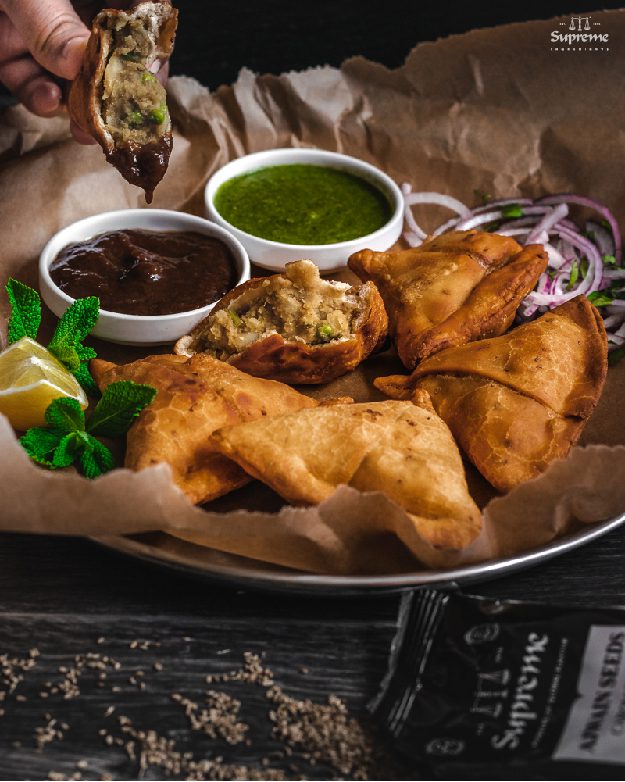 Ingredients for filling:
900g potatoes, boiled and peeled
1/2 cup frozen peas
1 tbsp oil
1 tsp Supreme Garlic and Ginger Paste
1 tsp Supreme Cumin Seeds
2 tsp Supreme Coriander Powder
1/4 tsp Supreme Turmeric powder
1 tsp Supreme Garam Masala
2 tsp Supreme Amchoor Powder (mango powder)
1 tsp Supreme Fennel Seeds
½ – 1 tsp green chilli, minced 
Salt to taste

Dough:
4 cups plain flour
2 tsp Supreme Ajwain (carom seeds)
1 ½ cup water
2 tbsp Vegetable oil
Salt to taste

flour paste:
Mix together: 
¼ cup plain flour
¼ cup water 
For the filling: mash the potatoes with a fork so you still have a few lumps (you want some texture). Heat oil in a large frying pan, add cumin seeds and as they start to brown add garlic ginger paste and green chillies. Sauté for a minute then stir in coriander powder, turmeric, garam masala, fennel seeds, salt, and amchoor powder. Finally add mashed potatoes and peas and stir-fry until the peas are tender and the mixture is dry. Check seasoning then take off heat and allow the filling to cool.

For the dough: In a large bowl mix flour, salt, ajwain seeds and oil. Add water, a little at a time, and knead until you have a smooth dough. Cover the dough and set aside.Make flour paste by mixing flour and water together until the consistency is thick and smooth. 

To fill the samosas: divide the dough into 14 balls, dust with flour and cover. Roll the dough ball out into a circle, about 6 inches in diameter. Cut the rolled dough in half. Pick up one half and brush it with a little flour paste along the straight edge of the pastry. Now take one edge of the straight side, and place it on the other edge of the straight side in such a way that the dough forms into a cone. Pinch the corner of the cone so that it's sealed. Add tablespoon and a half of the filling in the cone, making sure to fill it only 3/4th of the way. Brush the inside of the dough with a flour paste and seal it by pinching the edge together.  Repeat with remaining dough and filling. To cook, deep fry in hot oil until golden brown. Serve immediately with your favourite chutneys.