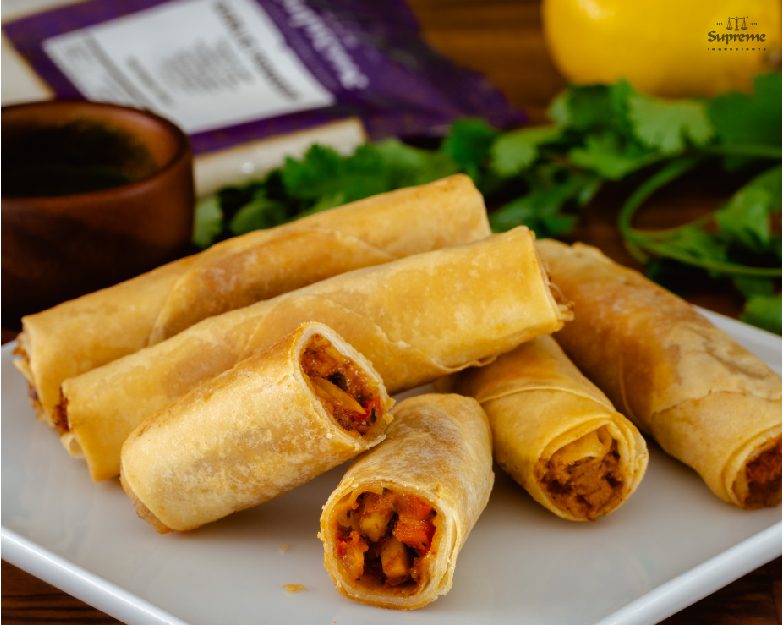 Mexican Paneer Spring Rolls
Flling:
1 tbsp oil
220g paneer, chopped into small pieces
½ cup red pepper, finely chopped
½ cup yellow pepper, finely chopped
½ cup white onion, finely chopped
1 tbsp Supreme Garlic Powder
1 tbsp Supreme Onion Powder
1 tbsp Supreme Smoked Paprika
1 tbsp Supreme Cayenne Pepper
1 tsp Supreme Coarse Black Pepper
1 tbsp Supreme Cumin Powder
1 tsp dried oregano
Salt to taste
1 300g hot salsa jar
¼ cup pickled jalapenos, finely chopped
1 tsp sugar
Spring Roll pastry, defrosted

Flour Paste:
Mix together:
¼ cup plain flour
¼ cup water
Heat oil in a pot over medium heat. Add paneer and cook until the edges turn golden. Add red pepper, yellow pepper and white onions and saute for 2-3 minutes. Stir in garlic powder, onion powder, smoked paprika, cayenne pepper, black pepper, cumin powder, oregano and salt. Cook for 1-2 minutes, then add salsa, chopped jalapeno and sugar. Continue to cook on low for 5 minutes. Remove from heat and set aside to cool. 

To assemble: lay the spring roll sheet (like a diamond) and place 2 tsp of paneer filling near the bottom of the sheet. Brush edges with flour paste, then fold in the sheet on either side so that they overlap and roll tightly towards the top and seal end with flour paste. Repeat with remaining spring roll sheets and filling.

At this point you can freeze the spring rolls. 

To cook: deep fry in hot oil until golden brown.