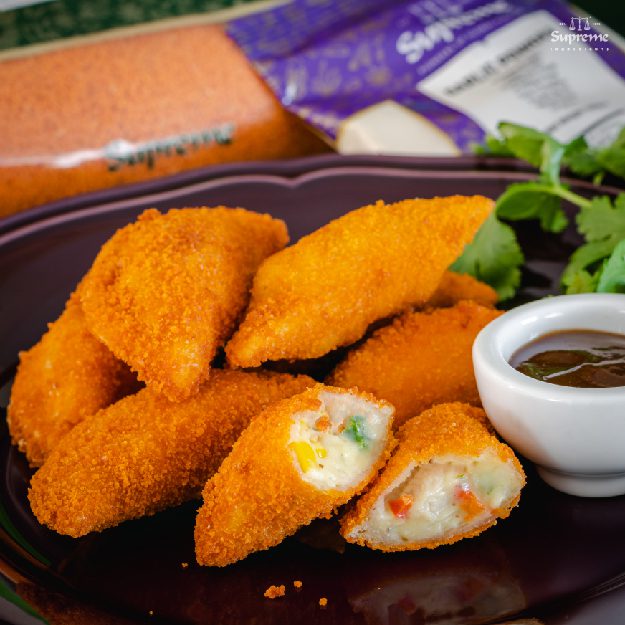 Filling:
1 tbsp oil
400g chicken breast; cut into small pieces
Salt to taste
2 tsp minced green chillies
1 tbsp Supreme Garlic Paste
1 tsp Supreme Coarse Black Pepper
⅓ cup red pepper, finely chopped
⅓ cup yellow pepper, finely chopped
⅓ cup green pepper, finely chopped
1 cup tinned sweetcorn
1 tsp Supreme Cumin Powder
2 tbsp Supreme Onion Powder
2 cups grated mozzarella

White Sauce:
150g butter
120g flour
3 cups milk
½ tsp Supreme Coarse Black Pepper
Salt to taste

Dough:
5 cups plain flour
1 3/4 cups boiling water
2 tbsp butter
Salt to taste

Beaten eggs
Supreme Breadcrumbs
Filling:
Heat oil in a pot over medium heat. Add chicken, salt, pepper, garlic paste and minced green chillies. Cook until all excess water/ moisture has evaporated. Stir in cumin powder and onion powder and cook for 1 minute then add yellow pepper, red pepper, green pepper and sweetcorn. Continue to cook for few more minutes then remove from heat. Make white sauce; melt butter in a large saucepan. Add flour and stirring constantly cook for 2-3 minutes. Whisk in a little of the milk at a time, stirring continuously until you have a smooth, thick sauce. Remove from the heat and season with salt and pepper then pour white sauce over the chicken. Mix well and set aside to cool. Once completely cooled stir in grated mozzarella. Chill mix overnight in the refrigerator.

Dough:
Add all ingredients into a mixer and mix together until you have smooth dough. Divide dough into 4 balls, dust with flour. Set aside, cover and rest for 30 minutes.

Assembly:
Roll each dough ball onto a flat surface then using 3 ½ inch cutter/ glass cut out circles.
Place a tsp of filling on one half and brush edges with flour paste. Fold over the other half and seal the edges to create a half moon. Repeat with remaining filling and dough. Dip in beaten egg and then coat in breadcrumbs. Freeze before frying. To cook; deep fry in hot oil until golden brown.