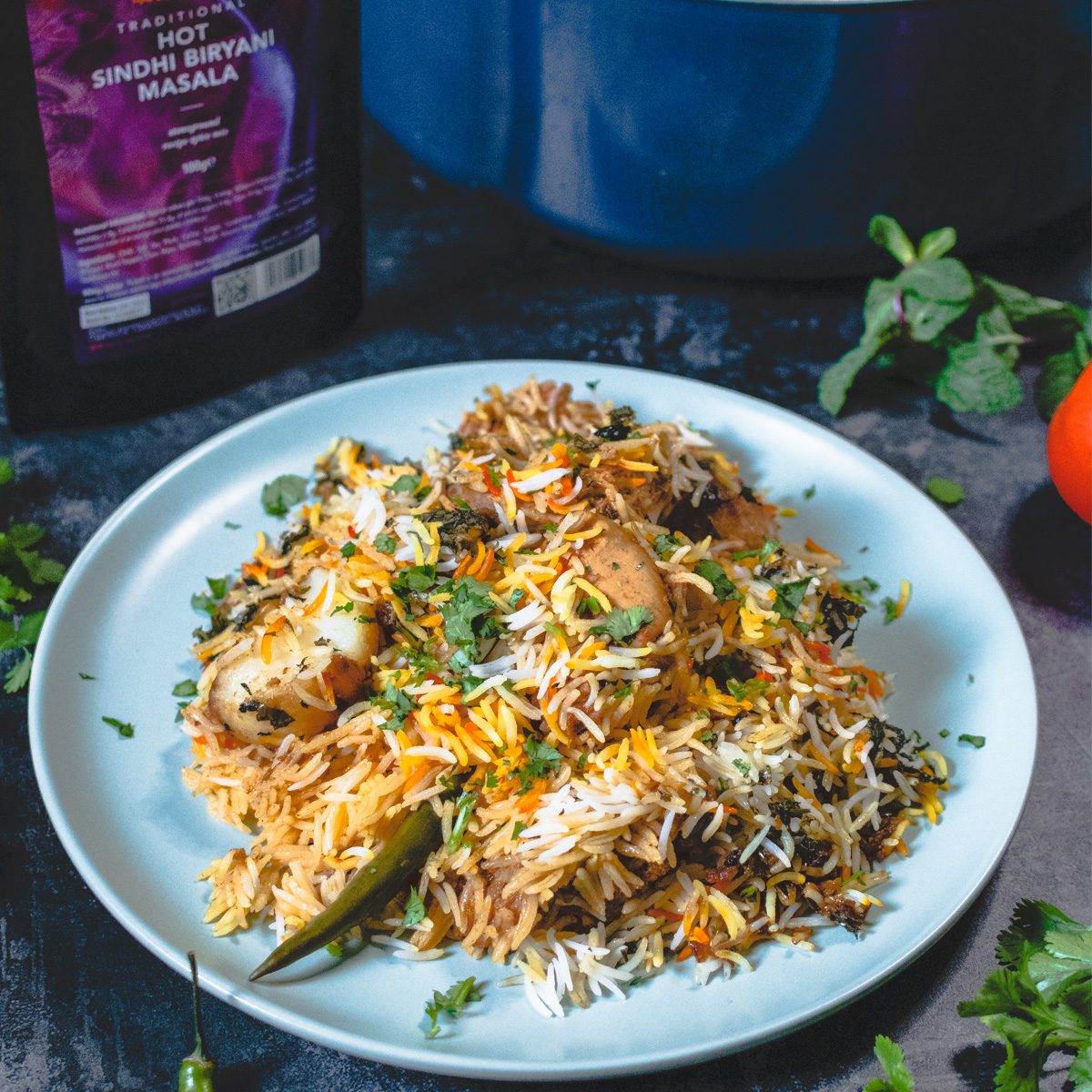 For the Marination:

1.2 kg whole (skinless) chicken cut into 12 pieces 

1 packet Supreme Mild or Hot Sindhi Biryani Masala 

1 cup yogurt 

½ cup oil 

Other ingredients: 

½ cup oil

450g onions, peeled & thinly sliced

 2 tbsp Supreme Garlic Paste

2 tbsp Supreme Ginger Paste 

1 Tin Supreme Plum Tomato 

2 ripe medium ripe tomatoes 

450g potatoes, peeled and cut into medium sized pieces

900g/ 4 cups Supreme Creamy Sella Rice (soaked in water for 1 hour)

4 tsp salt 

½ cup fried onions 

1 cup finely chopped coriander 

½ cup finely chopped mint 

4 green chillies 

Generous pinch of saffron soaked in ½ cup warm water 

⅓ tsp Supreme Yellow Food Colour

3 tbsp butter, cut into small pieces 

4 eggs, boiled 
Marinate the chicken: in a large bowl, mix together oil, yogurt and Bombay biryani masala. Add the chicken and mix well. Cover and marinate overnight in the fridge. Remove from the fridge 1 hour before cooking. 

Par-boil the potatoes in salted water then shallow fry until golden brown.

Bring a large pot of water to a boil over high heat.

Drain the soaked rice. Add 4 tsp of salt and stir well. Once the water comes to a rolling boil, add drained rice and boil until ¾ cooked. Remove from heat and drain thoroughly. 

Heat a large pot over medium-high heat. Add onions and saute until golden brown in colour. Add ginger garlic paste, cook for 2-3 minutes. Now, add marinated chicken and stir well. Reduce heat to medium-low, cover and cook until the masala and oil separates. Blend the tin tomatoes and ripe tomatoes in a food processor then add to the chicken. Stir well, cover and continue to cook on low heat until lamb is tender, the oil separates and the masala has thickened and reduced. Remove from heat and set aside, uncovered for 30 minutes. 

To assemble the biryani; spread ⅓ of the boiled rice in a pot. Then evenly spread the chicken curry. Spread another ⅓ of rice on top of the curry. Now, evenly distribute the fried potatoes and sprinkle over ⅔ of the coriander, mint and fried onions. Spread the last ⅓ of the rice on top. Sprinkle yellow colour on top and gently rub into the top layer of rice. Make holes in the biryani using the end of a wooden spoon (this allows even cooking). Slowly pour saffron water all over the rice. Scatter pieces of butter and green chillies on top. Cover and cook in a preheated oven 170°c for 45-50 minutes. Allow the biryani to rest for 10 minutes before serving. Garnish with remaining chopped coriander, boiled eggs and serve.