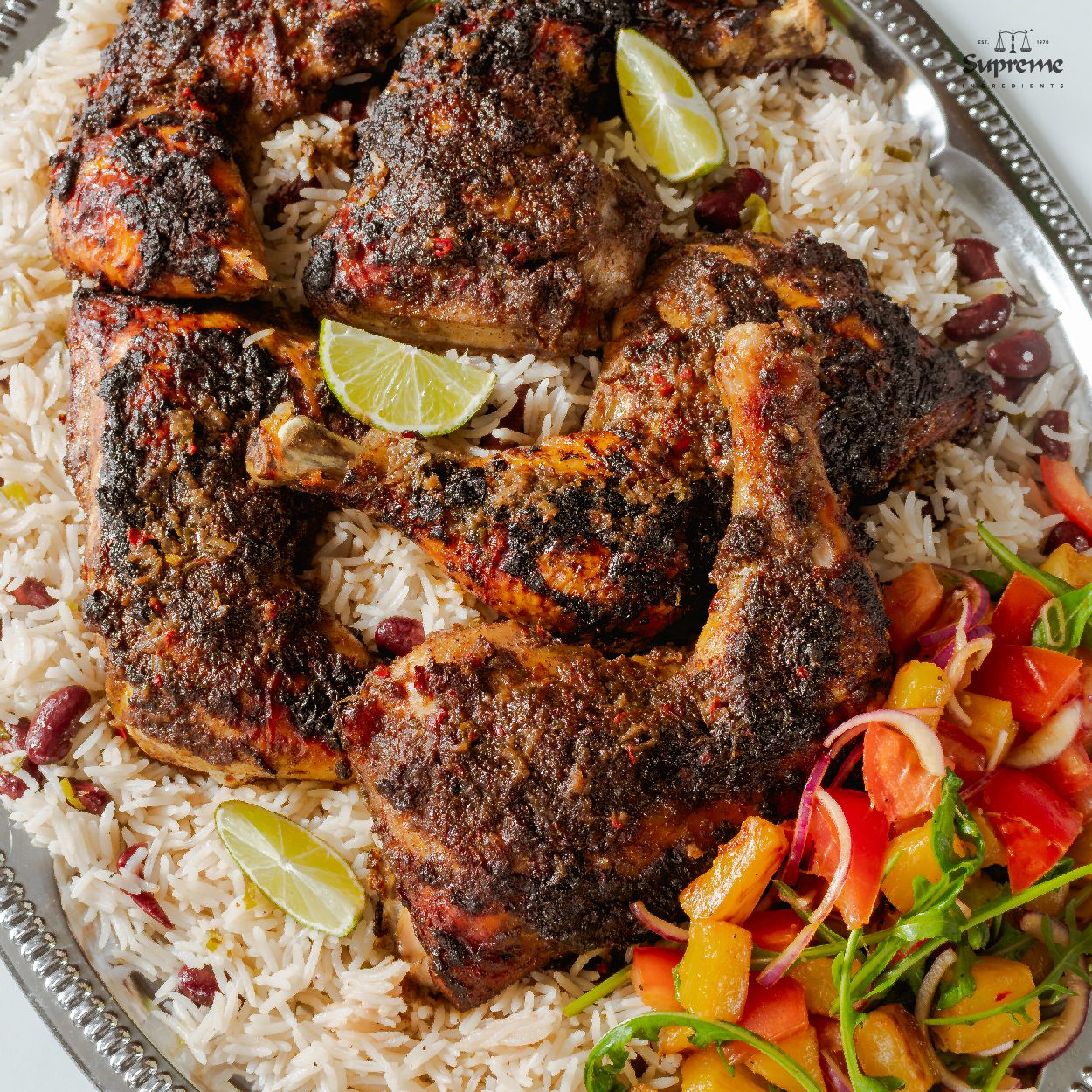 Jerk Chicken with Rice & Peas
Jerk Chicken:
6 whole chicken legs, with skin
5 spring onions
1 medium onion, peeled and roughly chopped
2 scotch bonnet peppers
2 tsp allspice powder
1 tsp Supreme Nutmeg Powder
½ tsp Supreme Cinnamon Powder
¼ cup oil
¼ cup brown sugar
1 tsp dried thyme
2 tbsp soy sauce
2 tbsp vinegar
2 tbsp Supreme Ginger Garlic Paste
1 chicken stock cube
Salt to taste

Jamaican Rice & Peas
2 cups Lubna Super Kernel Sela Rice, washed
2 tbsp supreme coconut oil
2 tsp Supreme Garlic Paste
1 tin Supreme Kidney beans, drained
1 tin Supreme coconut milk
1 ½ cups water
½ tsp dried thyme
4 spring onions, sliced
½ tsp Supreme Coarse Black Pepper
Salt to taste

Pineapple Salad:
1 whole pineapple cut into small chunks
1 tbsp butter
2 tomatoes, deseeded and cut into small chunks
1 small red onion, thinly sliced
Pinch of Supreme Red Chilli Flakes
Pinch of Supreme Coarse Black Pepper
Pinch of salt
Generous handful of rocket leaves
Jerk Chicken:
Add spring, onion, scotch bonnet peppers, allspice powder, nutmeg powder, cinnamon powder, oil, brown sugar, dried thyme, soy sauce, vinegar, ginger garlic paste, salt and chicken stock cube into a food processor and blend until smooth. Pour marinade over the chicken and mix ensuring chicken is coated well. Cover and marinate in the fridge overnight. Remove chicken from the fridge 1 hour prior cooking. Preheat oven to 180°c. Set a wire rack inside a large baking tray. Place chicken in a single line on the wire rack and bake for 45-50 minutes until tender and cooked through. In the meantime time make peas & rice and pineapple salad.

Jamaican Rice & Peas:
Place a large pot over medium-high heat. Add coconut oil and once heated add garlic paste and sliced spring onions. Sauté for 3-4 minutes. Add coconut milk, water, salt, pepper, kidney beans and thyme. Bring to a boil then add rice. Stir well, lower heat, cover and simmer until all liquid has evaporated and rice is fully cooked. Fluff with a fork and serve.

Pineapple Salad:
Melt butter over high heat. Add pineapple and tossing every now and then cook until edges are golden brown. Remove from heat and cool. Once cooled toss with remaining ingredients and serve with jerk chicken and rice & peas.