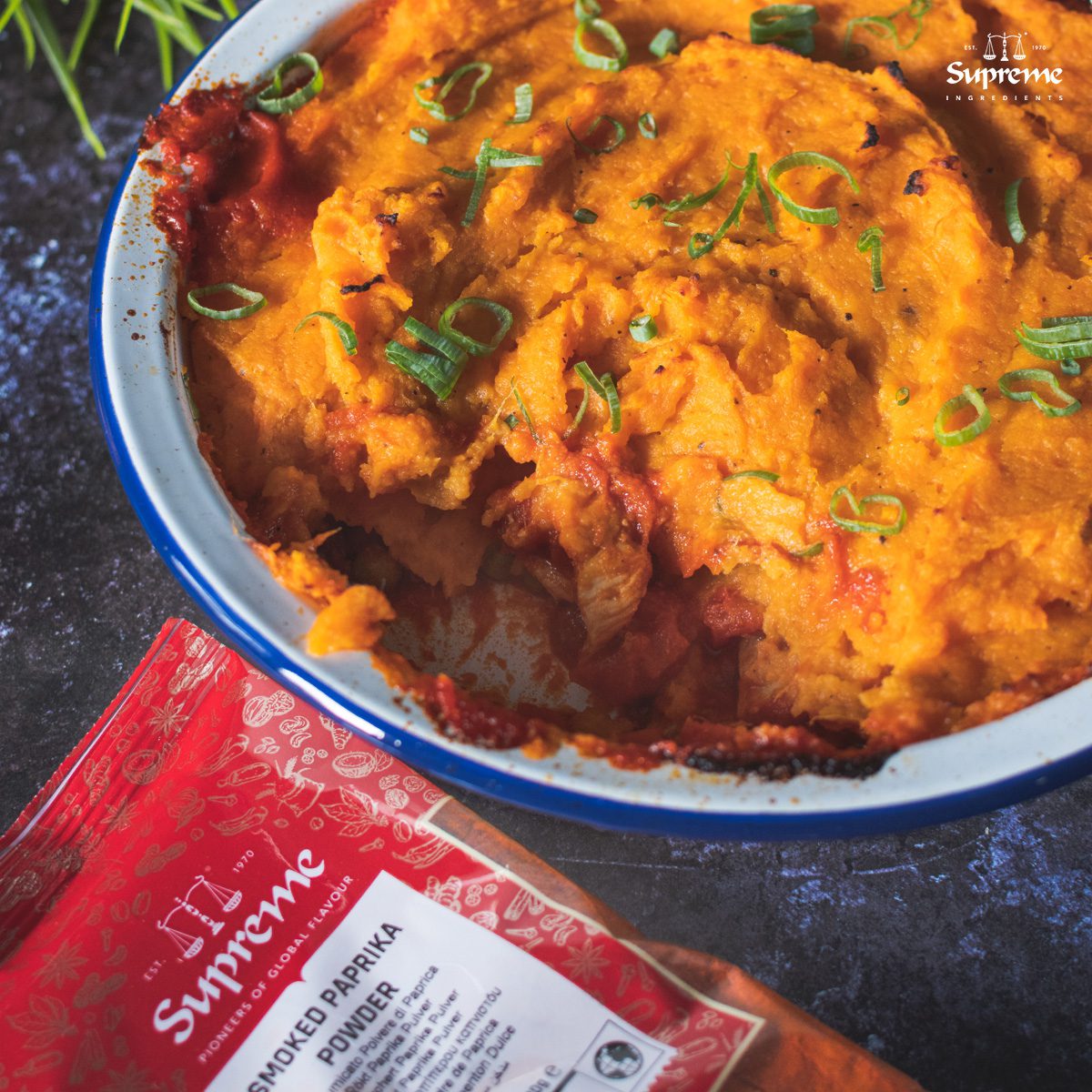 Chicken & Sweet Potato Pie
1 kg peeled sweet potatoes 

⅓ cup double cream  

50g butter 

½ tsp Supreme Coarse Black Pepper 

Salt to taste 

3 tbsp Zaytuna Olive Oil 

450g chicken breast, cut into bite-size pieces 

1 tbsp Supreme Garlic Paste

½ tsp Supreme Coarse Black Pepper 

Salt to taste 

1 tbsp Supreme Onion Powder 

2 tbsp Supreme  Smoked Paprika Powder 

1 tsp Supreme Cayenne Pepper Powder 

1 Supreme Chopped Tomato Tin

1 cup frozen mixed veg 

Sliced spring onions
Heat olive oil in a pot over medium heat. Add chicken breast, garlic paste, salt and black pepper. Stir well and cook until chicken is cooked through and all excess moisture has evaporated. Add onion powder, smoked paprika and cayenne pepper. Cook for a minute then add tinned tomato and frozen mixed veg. Stir well, cover and turn heat down to low. Check seasoning and simmer until the veg is cooked and the sauce has thickened. 

In the meantime, boil the sweet potatoes in salted water. Once the potatoes are boiled, drain and return back to the pot. Add butter and cream and mash until smooth. 

Pour the chicken mix into an ovenproof dish and then spoon over the sweet mashed potatoes. 

Bake in the oven at 180°c for 20-25 minutes or until piping hot. Garnish with sliced spring onions and serve.