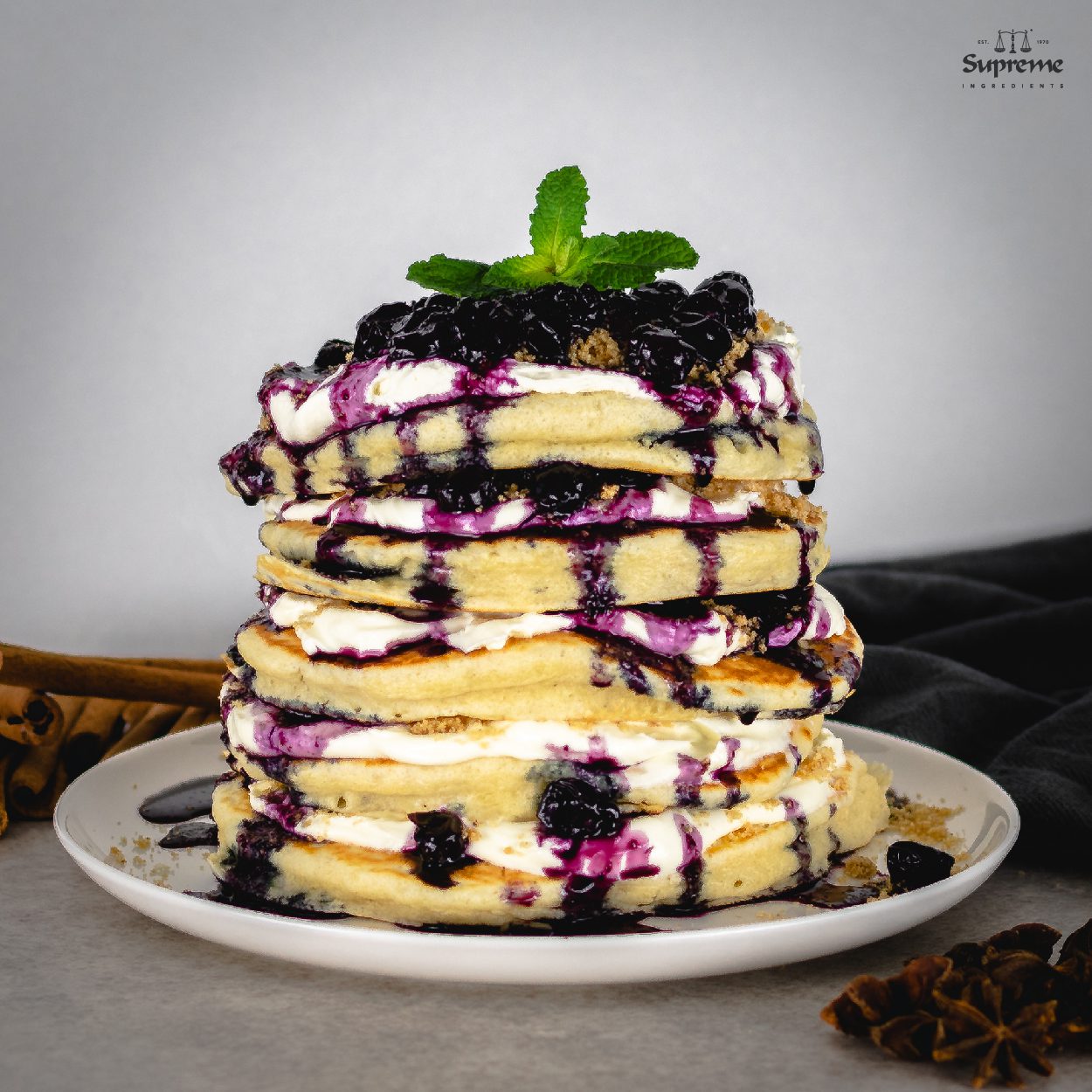 Spiced Blueberry Cheesecake Pancake
Crumb Mix:
100g digestive biscuit
15g salted butter, melted
½ tsp Supreme Nutmeg Powder
½ tsp Supreme Cinnamon Powder
½ tsp Supreme Star Aniseed Powder

Cream Cheese Mix:
600ml double cream
300g cream cheese
1 cup icing sugar

Blueberry Sauce:
500g blueberries
1 cup golden syrup
2 Supreme Star Anise
1 Supreme Cinnamon quill

Pancake:
2 cups plain flour
2 tbsp baking powder
50g salted butter, melted
4 tbsp sugar
1 ½ cup milk
2 eggs
1 tsp vanilla
Crumb Mix:
Add all ingredients into a food processor and pulse until you have a fine crumb mixture. Set aside
Cream cheese mix:
Add all ingredients into a bowl and beat together until thick and smooth. Set aside

Blueberry Sauce:
Add all ingredients into a saucepan and bring to a boil over medium heat. Simmer for 15 mins the remove from heat and set aside.

Pancakes:
Add all the dry ingredients into a bowl and stir well. In another bowl whisk together all the wet ingredients. Slowly add the wet mixture into the dry and whisk well until smooth. Let the batter rest for 10 minutes. Heat a non-stick pan over medium heat. Ladle the pancake batter into the pan and cook each pancake till bubbles appear on the surface and the edges have gone slightly dry. Flip each pancake and cook for a minute or two on the reverse side, till golden brown. Serve hot with cream cheese mix, crumb mix and blueberry sauce.