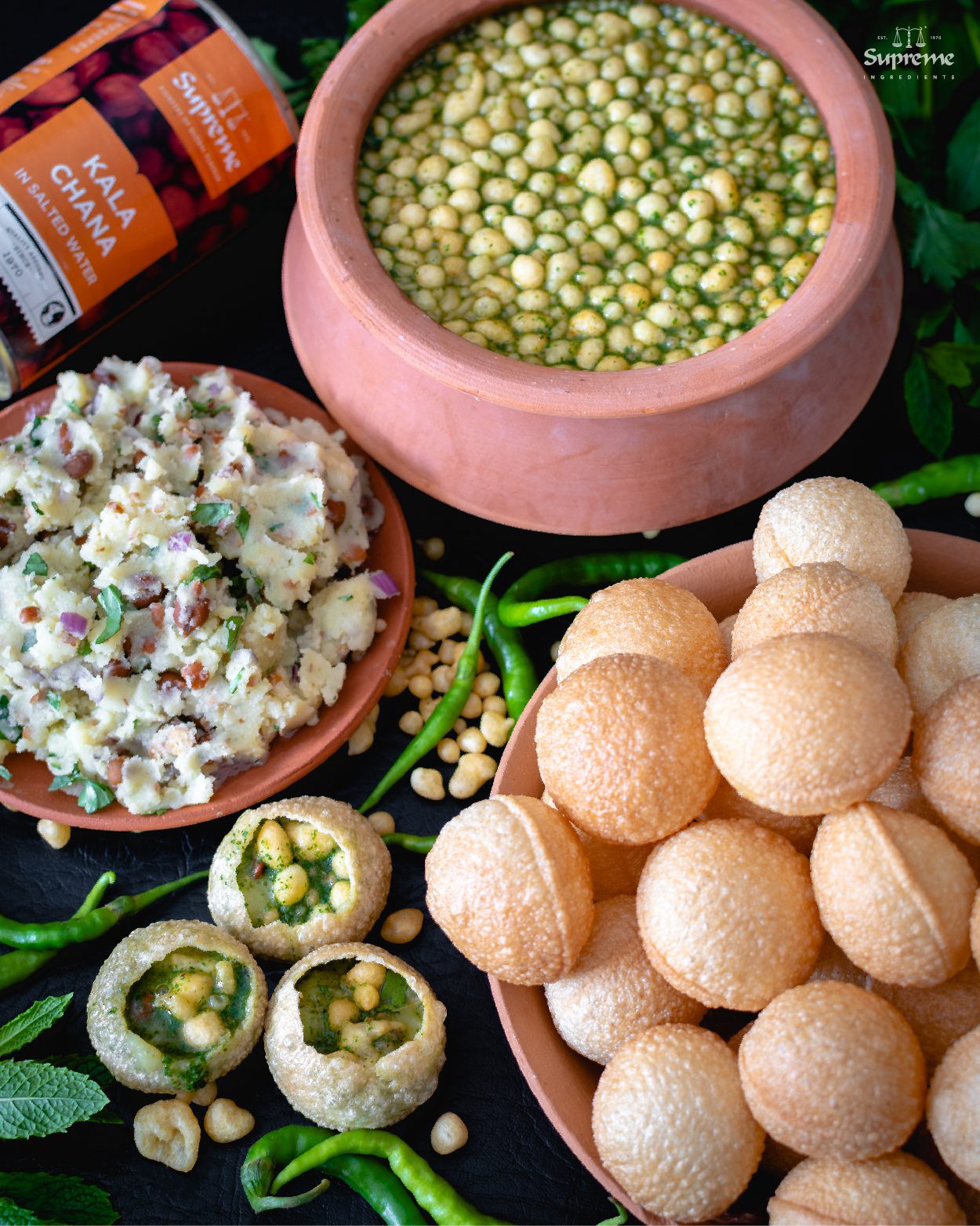 Puri:
600g white potatoes: peeled and boiled until tender
¾ cup Supreme Kala Chana
¼ cup chopped coriander
¼ cup chopped red onions
Salt to taste
Puris

Pani:
4 cups cold water
½ cup tightly packed mint
1 cup tightly packed coriander
Salt to taste
1 tsp Supreme Cumin Powder
1 tsp Supreme Black Salt
4 green chillies
1 tsp Supreme Amchoor (Mango) Powder
1 inch piece ginger
¾ cup tamarind sauce
½ cup boondi

Tamarind Sauce:
3 lt water
300g dates, pitted
1 400g Supreme Wet Seedless Tamarind
3 cups Sugar

Tadka:
1 cup oil
1 ½ tbsp Supreme Mustard Seeds
¼ cup Supreme Curry Leaves
1 tbsp Supreme Cumin Powder
1 tbsp Supreme Chilli Powder
Salt to taste
Pani Puri:
In a bowl, mash together boiled potato, kala chana, chopped coriander, chopped red onions and salt. Set aside. Add all ingredients for pani except boondi into a blender and blend until smooth. Pour into a bowl and ½ cup boondi. Take each puri and gently make a large hole on top with a spoon or your thumb (for stuffing). Add a spoonful of mashed potato mixture into the puri and then dip puri into the water (stir the water each time you dip) and serve immediately.

Tamarind Sauce:
In a large pot, add water, dates, tamarind and sugar. Bring to a boil over high heat then reduce heat to medium and simmer uncovered for 1 hour. Every now and then give it a good stir as well was a mash using a potato masher. Remove from heat and cool to room temperature. Place a fine mesh sieve over a bowl and pass the water (in small amounts) through the sieve. Use a silicone spatula to extracting much pulp as you can. For the tadka; heat oil over medium heat. Once heated add mustard seeds and when they start to splutter add curry leaves, cumin powder, chilli powder and salt. Cook for a minute (careful not to burn the spices ) then add tadka to the imli sauce. Stir well and pour into sterilized jars. Will keep in the fridge for up to 3 months.