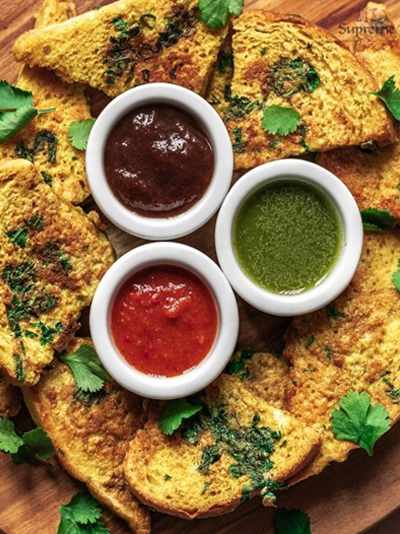 Oil
4 slices of bread, cut into quarters
3 eggs
¼ tsp Supreme Garlic and Ginger Paste
1 tsp Supreme Cumin Powder
½ tsp Supreme Turmeric Powder
½ tsp Supreme Coriander Powder
Salt to taste
2-4 fresh green chillies, finely chopped
¼ cup chopped coriander
In a bowl whisk together eggs, garlic and ginger paste, cumin powder, coriander powder, turmeric powder, salt, green chillies and chopped coriander. Place a non stick frying pan over medium heat. Add 1 tbsp of oil then once the pan is hot, dip bread in the egg mixture and coat evenly. Gently place bread in the pan and fry on both sides until golden brown. Repeat with remaining bread and egg mix and add more oil as needed. Serve hot with chutneys.