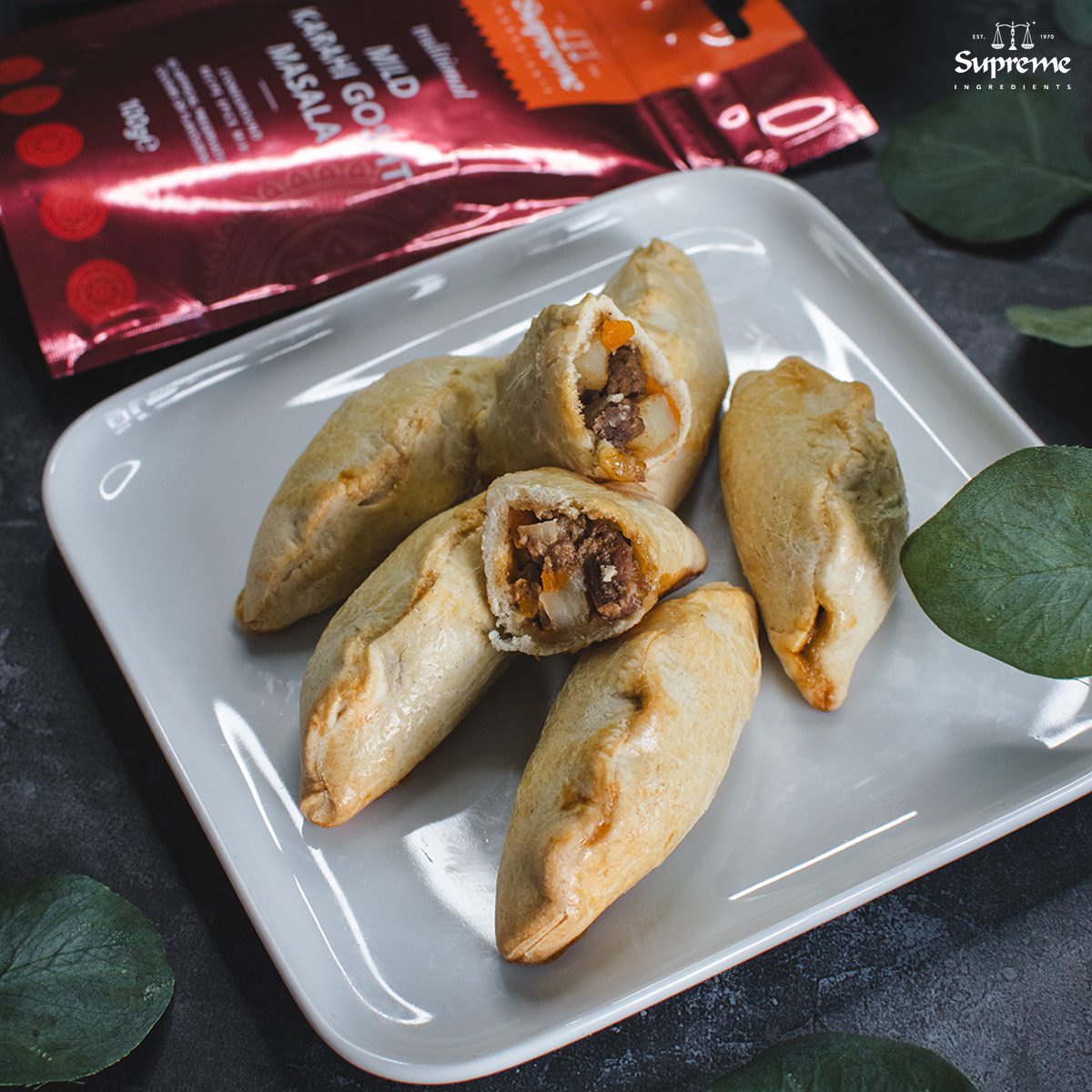 Ingredients for filling: 
3 tbsp oil
500g beef, finely chopped
1 cup finely chopped onions
1 cup finely chopped carrots
1 cup finely chopped potatoes
1 tbsp Supreme Ginger Garlic Paste
Pinch of salt
2 tbsp Supreme Karahi Gosht Spice Blend hot/ mild 
⅓ cup water 

Ingredients for dough: 
3 ½ cup self raising flour
150g cold salted butter, finely chopped
1 tsp salt 
¾ cup ice cold water 

Other ingredients:
Water 
Whisked egg/ milk



Method for the filling: Heat a pot over medium heat. Add oil and onions and saute until soft. Add beef, salt and ginger garlic paste. Stir well, cover and cook until excess moisture has evaporated. Add Karahi Gosht Spice Blend and stir well. Cook for 2 minutes then add chopped potatoes and carrots. Mix well and add water. Stir, cover and turn the heat to low and cook until beef and potatoes are tender. Remove from heat and set aside to fully cool.
Method for the dough: Combine the flour, salt and butter in a large bowl and gently rub together with your fingertips until the mixture resembles fine breadcrumbs. Gradually work in enough water to bring the mixture together to form a smooth dough. Turn out onto a clean work surface and knead into a smooth ball. Flatten out into a disc, wrap in cling film and put in the fridge for 2 hours until firm. Cut the dough into quarters and shape into balls. Roll out the dough to the thickness of a pound coin and use a 4 inch cookie cutter/bowl to cut out circles. Add a 1 tbsp of  mixture between the circles, brush edges with water and fold the pastry, then crimp the edges to seal. Combine remaining dough trimmings into a ball and roll out to make more circles of pastries for the filling. Brush the pasties with the whisked egg.
At this point you can freeze the pastries.
Method to Bake: Place on a baking sheet and bake at 180°c for 15 minutes (20 minutes from frozen), or until golden.