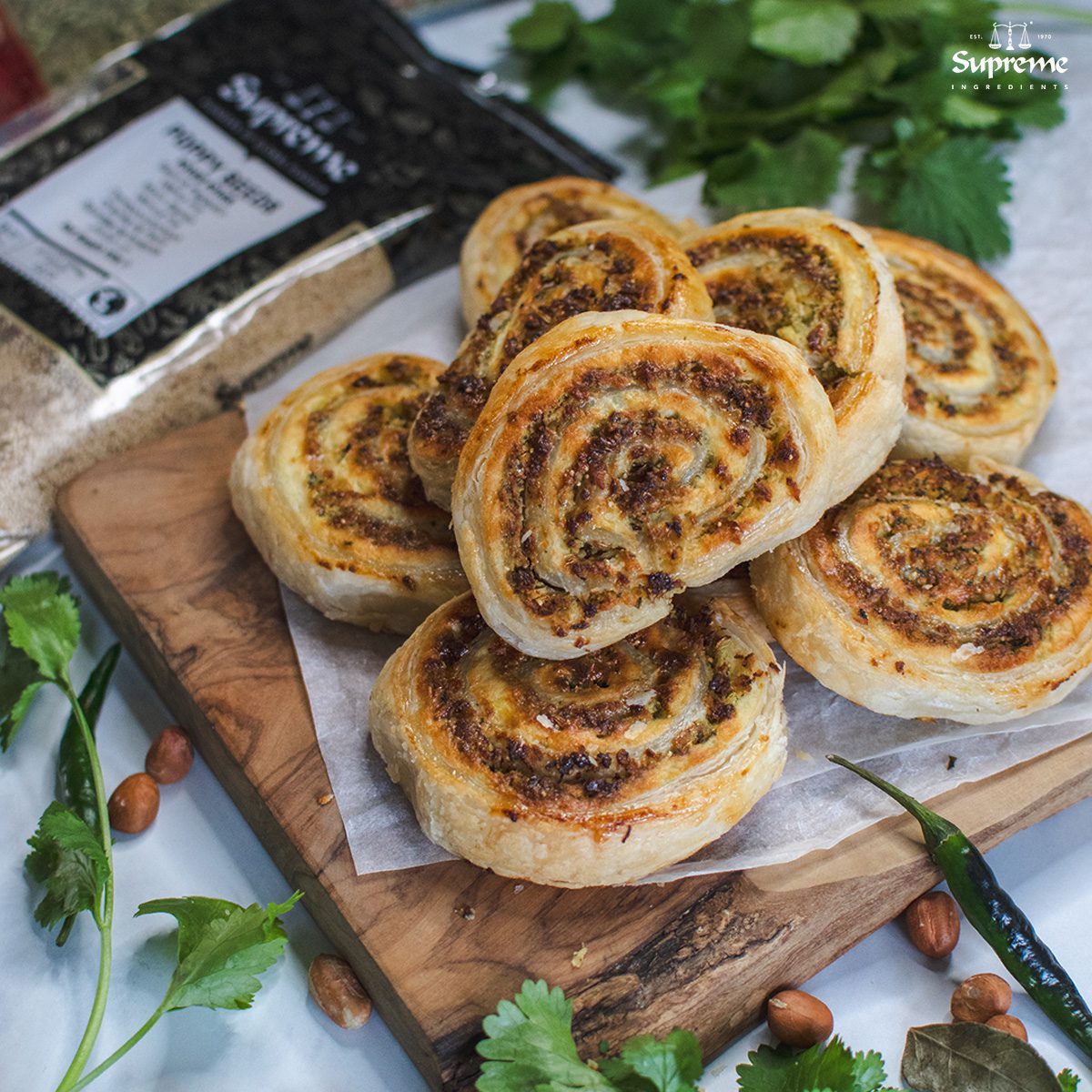 Coconut filling:
3 tbsp Oil 
½ tsp Supreme Mustard Seeds 
1 tbsp Supreme Khas Khas (poppy seeds)
1 tbsp Supreme Fennel Seeds 
1 cup Supreme Coarse Dessicated Coconut
¼ cup Supreme Pink Peanuts
¼ cup Supreme Golden Sultans 
10 Supreme Curry Leaves 
Salt to taste 
¼ cup Supreme Besan (gram flour)
3 tbsp Sugar 
4-5 green chillies 
Handful of Coriander Leaves (with stalks) 
2 tbsp Lemon Juice 
Other ingredients: 
600g white potato, peeled, boiled & mashed 
1 puff pastry sheet


Heat a frying pan over low heat. Add mustard seeds and dry roast until they split then add Khas Khas, Fennel Seeds, Coarse Dessicated Coconut, Pink Peanuts, Golden Sultanas, Curry Leaves, Salt and Gram Flour. Stir constantly and dry roast until lightly toasted. Add all toasted ingredients into a food processor along with, green chillies, coriander, sugar, lemon juice and oil. Blitz until all ingredients are well combined. Unroll the pastry and evenly spread the mashed potatoes. Then add the kachori mixture and spread evenly on top of the mash. Roll the pastry tightly from the bottom then place on the tray and freeze for 1 hour. Remove from the freezer, then take a sharp knife and cut the roll into ½ inch slices and carefully place the pinwheels on a baking sheet. Lightly brush with the whisked egg and bake at 180°c until cooked and golden. Or air fry at 180°c for 12 minutes.