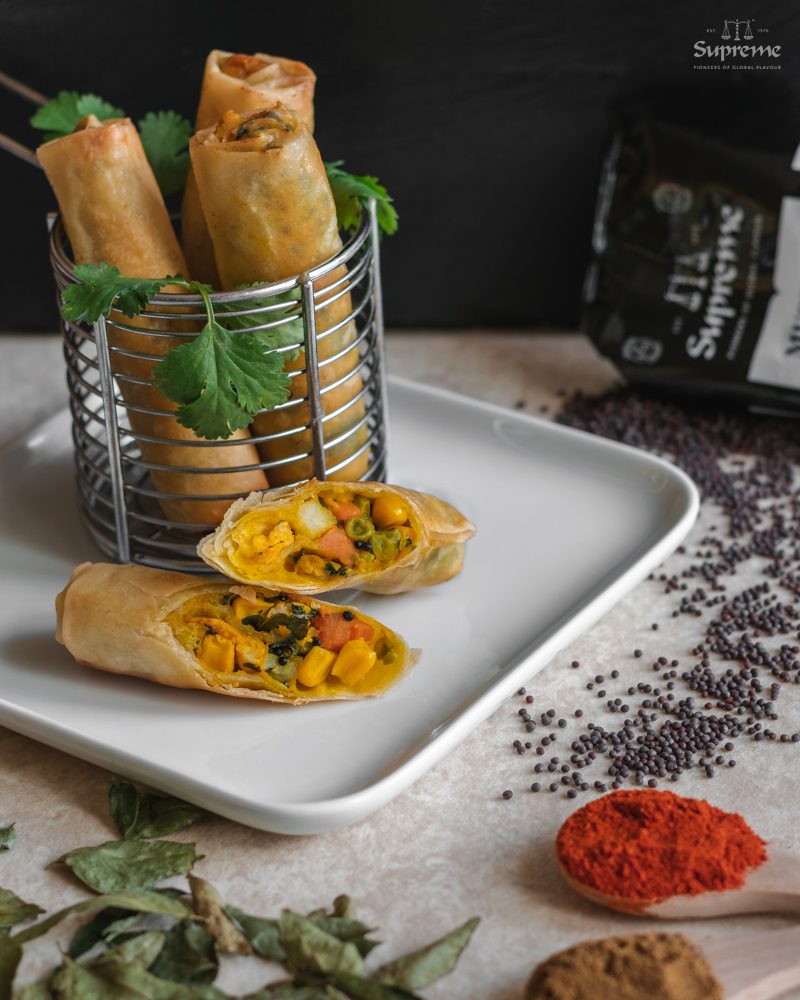 Chicken & Vegetable Spring Rolls
Filling:

1 tbsp oil

1 cup chicken breast, cut into small pieces 

2 tsp Supreme Garlic and Ginger Paste

½ tsp Supreme Turmeric Powder

½ tsp Supreme Chilli Flakes

½ tsp Supreme Chilli Powder

Salt to taste

2 cups mixed veg, boiled and drained

1 cup potato, cut into 1cm cubes- boiled and drained

¼ cup lemon juice

½ cup coriander finely chopped 

Spring roll sheets

Flour paste:

Mix together:

¼ cup plain flour

¼ cup water 

For Tadka (Tempering): 

2 tbsp oil

1 tbsp Supreme Mustard Seeds

Handful of Supreme Curry Leaves

½ tsp Supreme Turmeric Powder

½ tsp Supreme Chilli Powder

½ tsp Supreme Coriander Powder

½ tsp Supreme Cumin Powder
Heat a pan over medium-high heat. Add oil, chicken, garlic and ginger paste, turmeric powder, chilli flakes, chilli powder and salt, cook the chicken until all moisture has evaporated. 

In another pan prepare the tadka- heat a pan over medium heat, add oil and mustard seeds and cook till the seeds start to splutter. Working quickly, add turmeric, chilli powder, coriander powder, cumin powder and curry leaves. Cook for a minute then remove from heat. Mix in the chicken, mixed veg, potatoes, lemon juice, chopped coriander to the tadka. Check for seasoning then allow the mixture to cool. 

Make flour paste by mixing flour and water together until you have a thick consistency.

To fill the rolls lay the spring roll sheet and spoon 2 tbsp of chicken and veg mix near the bottom of the sheet. Brush corners with flour paste, then fold in the sheet on either side so that they overlap and roll tightly towards the top and seal end with flour paste. Repeat with remaining spring roll sheets and filling. At this point you can freeze the spring rolls.

To cook: deep fry in hot oil until golden brown.