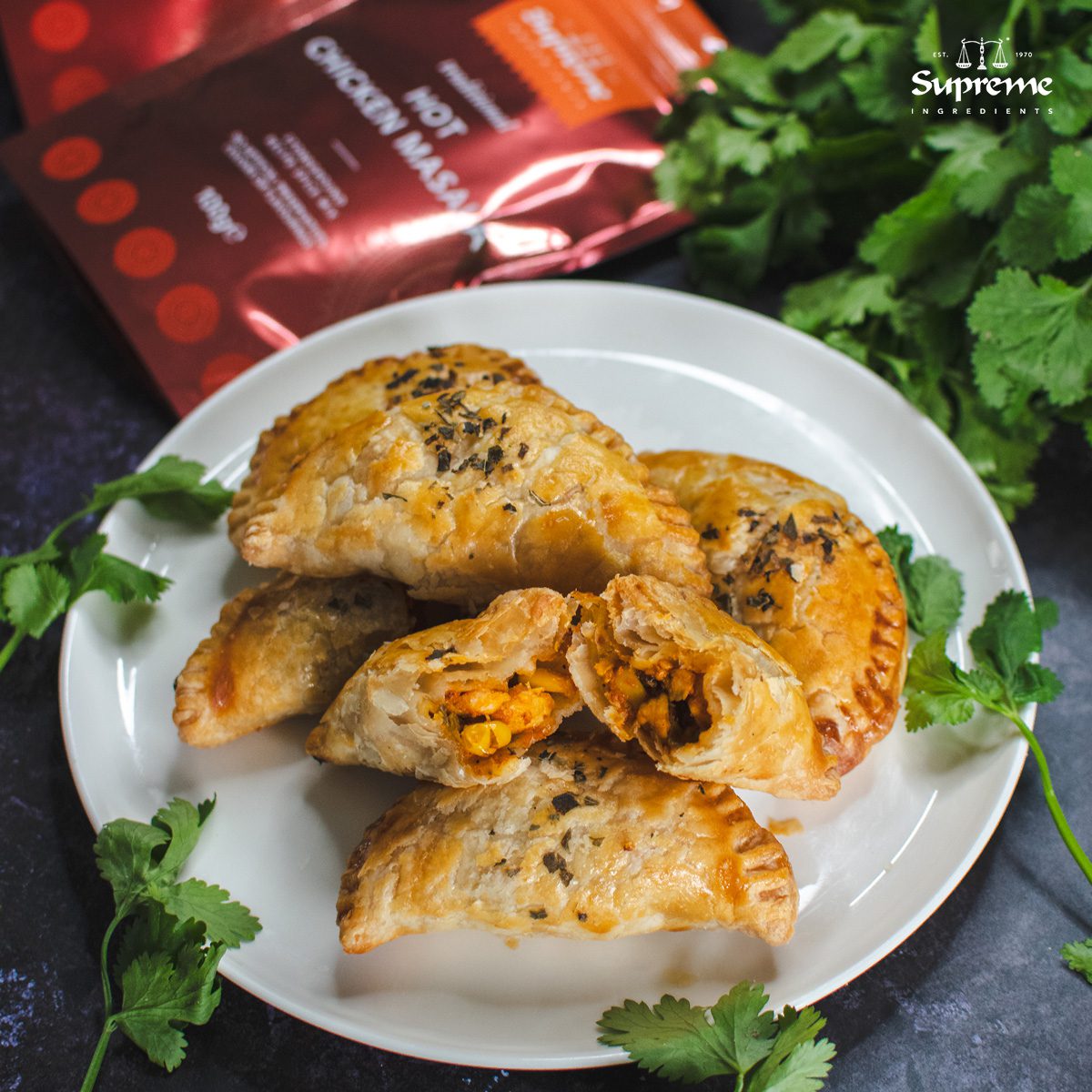 2 tbsp oil
500g chicken breast 
1 tbsp Supreme Ginger Garlic Paste 
Pinch of salt
2 tbsp Supreme Chicken Masala Spice Blend hot/ mild 
½ Supreme Chopped Tomato Tin, pureed 
½ cup sweetcorn
¼ cup double cream
½ cup spring onions, sliced 
¼ cup coriander, chopped 
35 4″ round puff pastry sheets 
Water 
Whisked egg 
Supreme Kasuri Methi 



Method for the filling: Heat a pot over medium heat. Add oil, chicken, salt and ginger garlic paste. Stir well and cook until all excess moisture has evaporated. Add chicken masala spice blend, mix well and cook for 2 minutes. Add pureed tomato and stir well. Turn the heat down to low and simmer for 15 minutes. Stir in sweetcorn and simmer for another 5 minutes. Now add double cream, stir and simmer for an additional 5 minutes. Remove from heat and set aside to fully cool. Once the mixture is fully cool stir in chopped coriander and spring onions. 
Method for filling: Fill one half of each round pastry with the chicken masala filling and brush edges with water. Fold the other half over and seal the edges with a fork. Repeat with remaining mixture and pastry. Brush with whisked egg and sprinkle with Kasuri Methi 
At this point you can freeze the pastries. 
Method to Bake:  Bake in a preheated oven at 180°c for 20-25 minutes until golden or airfry at 180°c for 12 minutes.