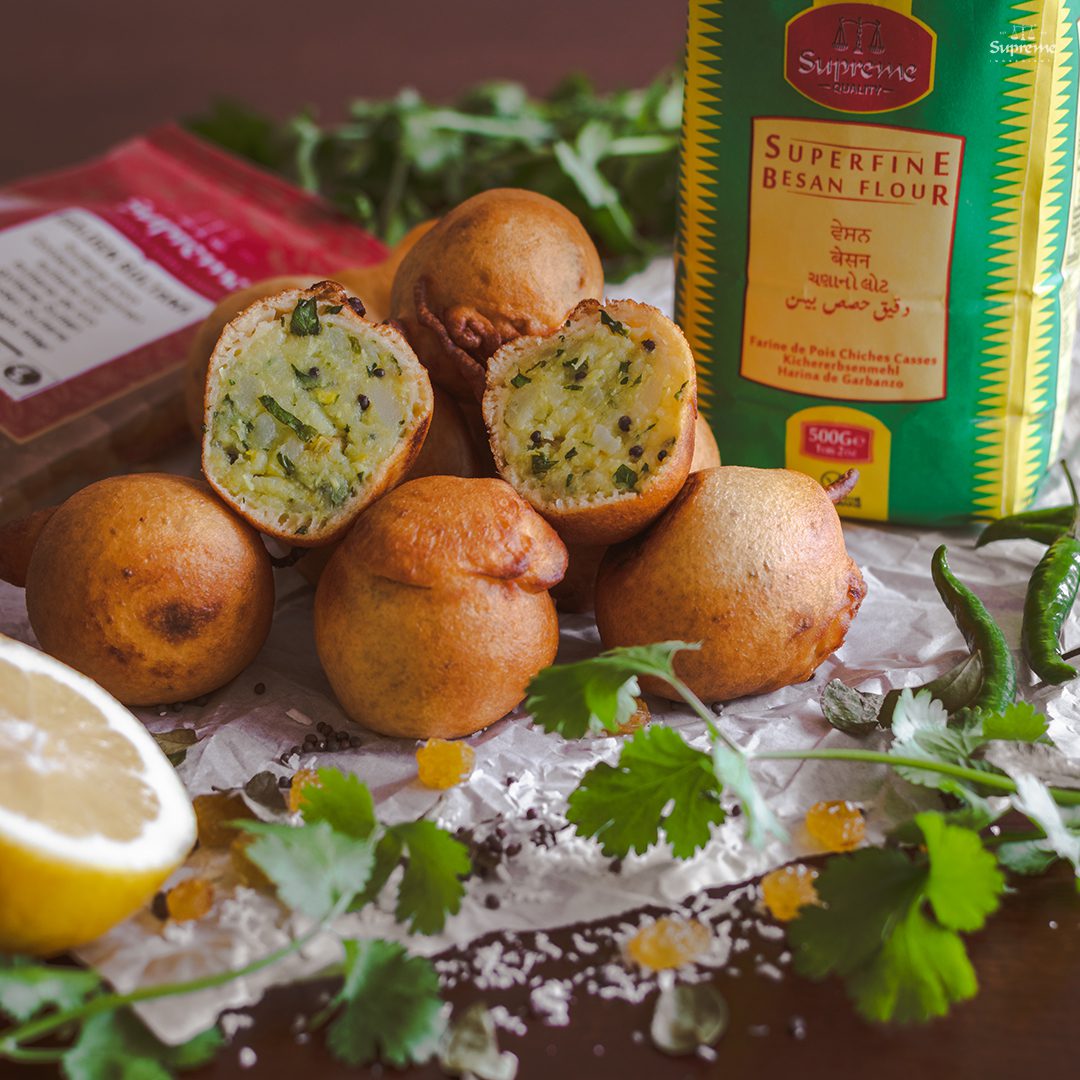 Filling:
500g potatoes. Boiled with skin until fully cooked. Then cool, peel skin and mashed.
1 tbsp oil
10 Supreme Dried Curry Leaves
1 tbsp Supreme Mustard Seeds
3 tbsp Supreme Medium Desiccated Coconut
1 tsp Supreme Ginger Garlic Paste
2 tsp minced green chillies
1 tsp sugar
⅓ cup chopped fresh coriander
3 tbsp Supreme golden Sultana
¼ tsp Supreme Turmeric Powder
Salt to taste
1 tbsp lemon juice
Oil to deep fry
Batter:
1 cup Supreme Besan (Gram Flour)
¼ cup Supreme Rice Flour
Pinch of Supreme Ajwain (Carom seeds)
1 cup water
1 tsp salt
¼ tsp baking powder
Heat oil in a deep pot over medium heat. Add mustard seeds and once they start to splutter lower the heat and add curry leaves. Stir for 30 seconds and add ginger garlic paste, green chillies, turmeric powder, salt, dessicated coconut, and golden sultanas. Stirring constantly cook for a few minutes until ginger garlic paste is fully cooked. Turn off heat, add sugar, lemon juice, chopped coriander and mashed potatoes. Mix everything together then set aside and cool in the fridge. To assemble; using a tbsp measuring spoon to scoop out 2 level tbsp of the mixture and roll into even balls. At this point you can freeze the potato balls. when required, remove from the freezer, dip in batter and deep fry. To cook: add all ingredients for the batter except baking powder into a bowl and whisk until smooth and lump free, then set aside. Heat enough oil to deep fry over medium heat. Whisk the baking powder into the batter and when the oil is hot enough dip the potato ball in the batter and coat evenly. Then gently place the vada in the hot oil and deep fry until deep golden all over. Remove using a slotted spoon and drain on kitchen paper. Repeat with remaining Vadas and be careful not to overcrowd the pan. Serve hot with chutneys of your choice.