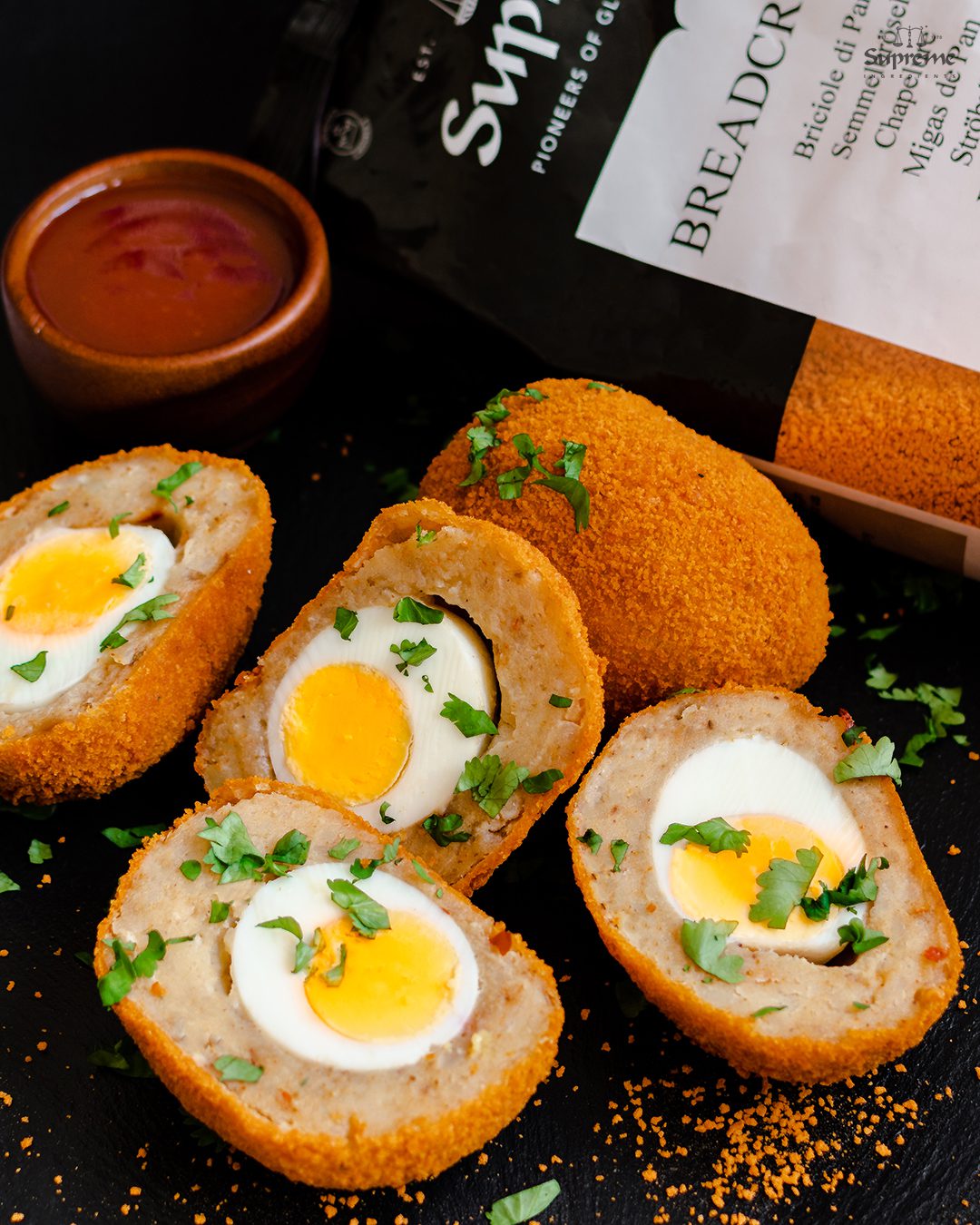 8 medium eggs (6 boiled & 2 whisked
600g potatoes, peeled and cut into chunks
1 tbsp milk
½ tsp Supreme Ginger Garlic Paste
½ tsp Supreme Garam Masala
1 tsp Supreme Cumin Powder
½ tsp Supreme Chilli Powder
1 tsp Supreme Chilli Flakes
1 tsp Supreme Coriander Powder
½ tsp Supreme Amchoor Powder (dried mango powder)
½ tsp Supreme Black Salt
¼ cup plain flour
1 cup Supreme Breadcrumbs
Oil to deep fry
Chopped coriander
Boil the potatoes in seasoned water until tender. Drain and cool slightly then mash with the milk, ginger garlic paste, garam masala, cumin powder, chilli powder, chilli flakes, coriander powder, amchoor powder, black salt & salt. Set aside and cool. In the meantime, carefully put the 6 whole eggs in a pan of boiling water and boil until preferred doneness. Drain, cool under running water to stop them cooking, then shell carefully. Divide potato filling into 6 equal portions, then flatten each portion and place an egg in the middle and wrap the potato filling around the egg, making sure there are no gaps. Repeat the same with remaining eggs and potato filling. Put flour, whisked eggs and breadcrumbs in separate bowls. Carefully dip each covered egg into the flour, then whisked eggs, then the breadcrumbs, shaking off any excess. Using your hands gently press the breadcrumbs into the eggs to keep them secure. Heat enough oil so the scotch eggs are completely submerged over medium heat. Once oil is hot enough, lower eggs using a slotted spoon and cook in batches for until crisp and golden. Remove using a slotted spoon and drain on kitchen paper. Slice in half, garnish with chopped coriander and serve.